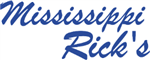 Mississippi Rick's
Soul Food in Chicago, IL
3351 S Kings Drive
Chicago, IL 60616
Categories:

Chicken Restaurant, Buffet Restaurant, Soul Food Restaurant,

Service Area(s):

Cook County

Product(s):

Everything from barbecue to seafood with a local Mississippi taste.

Payment Methods Accepted:

VISA, Cash
Whether you are a local of the area or a visitor, Mississippi Rick's soul food in Chicago, IL is sure to add flavor to your life. Rick Williams has a simple policy for his business, which is why when someone asks him what's good at his restaurant he replies "Everything here's good. If I put something on the menu and it doesn't work, then it's off!" You will be sure to find something that suits your taste, whether you're a barbecue buff, seafood sucker or Cajun connoisseur.
Unlike other restaurants that only look at food as a business venture, Rick's soul food restaurant is a creative celebration of the Mississippi flavor and a way to explore and enjoy what has truly become a one-of-a-kind local attraction.

More on Mississippi Rick's:
Services: Soul food Delivery, Takeout and Dine in. Most authentic Soul Food you will ever taste! Chicago Delta Soul Food Prince.
Mississippi Rick's can also be found on: